Decoration with recycled tires
Long live recycling! Creativity, fun, savings and decoration. How? With old tires, a few materials and tools to decorate, some free time and a lot of imagination.
In Decorablog we want to help you decorate any room of your home with a lot of creativity, and that is why we have selected some incredible crafts and ideas that are available to anyone. Let's do it!
Tables and chairs with tires
After seeing the great crafts made mainly with old tires, it is increasingly clear that creativity knows no limits. And if you thought you had already seen everything in recycled decoration, wait to discover some great things that we propose to you today.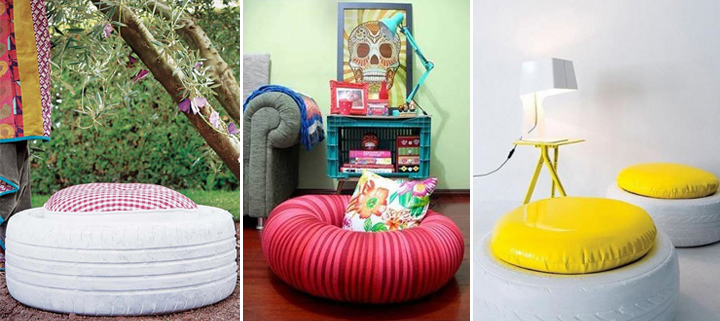 Our first craft is to convert an old tire into a design seat. And as a picture is worth a thousand words, do not lose sight of the photographs that accompany our article because they are a magnificent visual explanation.
But before designing your craft, remember to thoroughly clean your old tire. Then you will have to place a wooden board previously cut, taking into account the exact size of the tire.
With a drill and the appropriate bits you will have to fix that board, on both sides of the tire. Once this is done, the next step will be to cover the entire surface with a rope, which is recommended to stick with strong adhesive. To do this, remember to fix the end of your rope with the help of the drill, to then screw the rope and go covering the entire surface of the tire.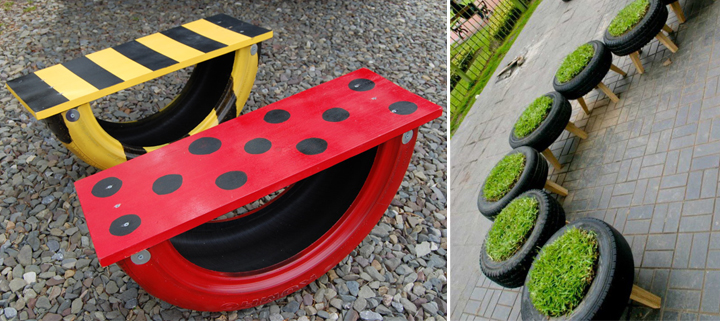 To finish, you have to apply a layer of varnish or a product that helps protect and fix the design. A craft that requires some practice and patience, although the result is worth it.
Decoration for interior and exterior
A splendid example of everything we can do using materials of all types of materials. But the ideas do not end here, since you can also make original seats for the garden or for any other corner of your house, using tires, some paint and some cushions.

The craft is so simple that almost no explanation is needed, because the images we have selected for you respond very well to our doubts. Anyway, in Decorablog we recommend you clean your tire well, apply several layers of base paint and then paint the color you want to use.
Do this task outdoors to avoid breathing the toxic smell of the paint. Although if you want a respectful handicraft with the environment, do not forget that in specialized stores you can also buy ecological non-toxic and non-polluting paint.
And now we continue with our design. So remember that before using the paint, you should read carefully the instructions and advice of the manufacturer, and respect the drying times. In addition, the brushes you use to apply the paint will also influence the outcome of your work.
Have you finished painting? Is the surface dry? Then you can place the cushions in the space of your tire. Tachín tachán! We already have our seat for the garden.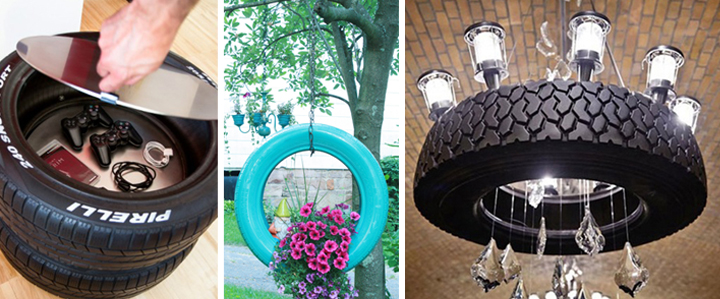 Best of all, following exactly the same steps described above, that is, cleaning and painting old tires, we can also make many other designs. You do not even have to complicate your life too much, because simplicity is the key to getting truly creative crafts.
For example? Containers and pots for our flowers and plants, a table to store things, a lamp, a wreath with flowers and our favorite: a seesaw for the little ones in the house. Although to design a seesaw you will need to have some basic knowledge in DIY.
If you want to continue with the surprises, check out the ideas in images that we have gathered below for you.
I guarantee you it's worth it …
source: www.decorablog.com